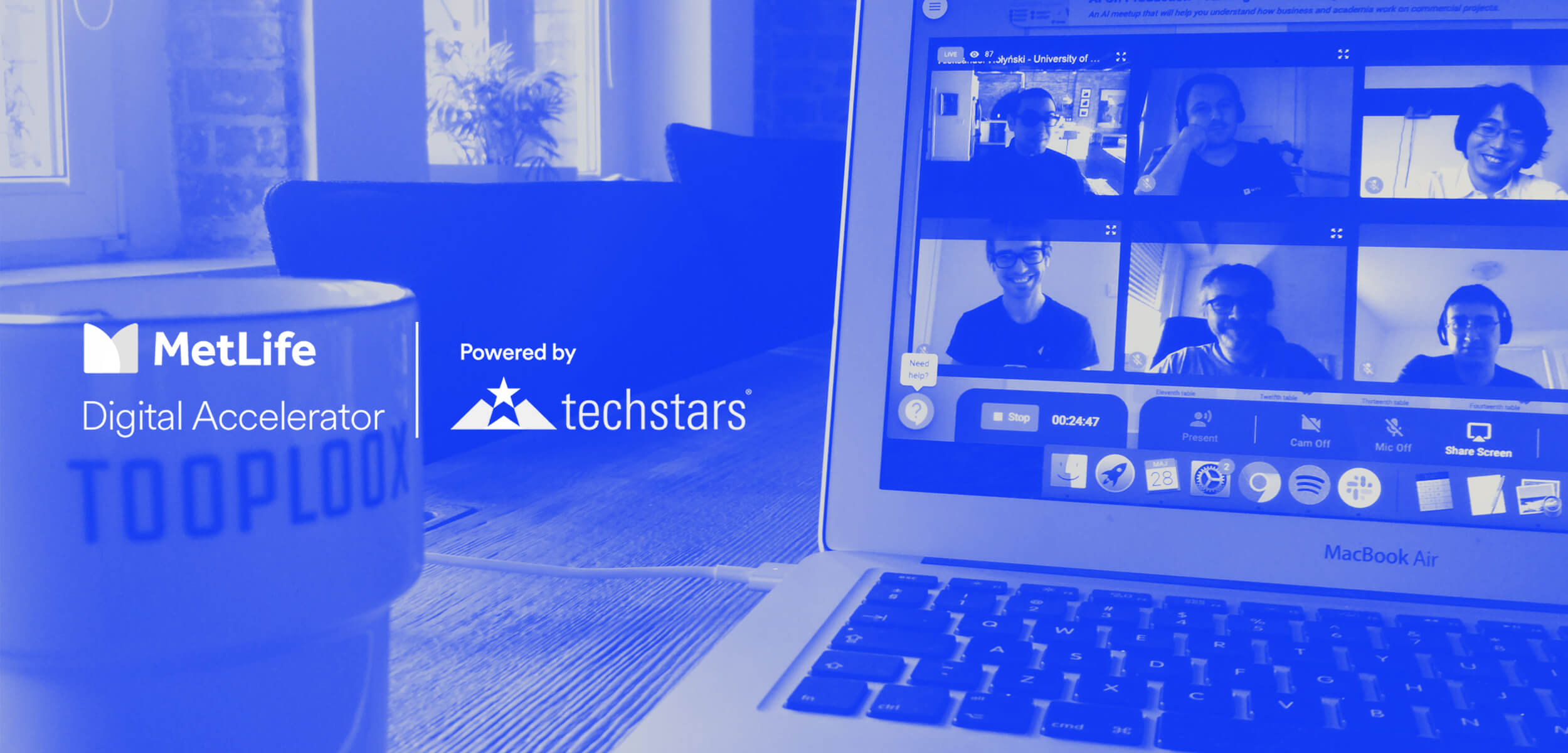 Alongside Techstars and Metlife, Tooploox aims to deliver solutions that will tackle modern problems encountered in the insurance business sector by supporting startups and innovative ideas from the field.
The pandemic has had an interesting impact on the startup ecosystem. The number of investments has significantly dropped, but the overall value hasn't. This means that investment fund managers have become more picky when it comes to delivering financing to new startups. More about the current situation was covered in our blogpost about Venture Capital during the recession.
For people who drive their businesses and startup founders, this time hasn't been easy at all. They still don't know what impact the pandemic will have on the economy, and they have already started to think about the next wave (which will likely take place sooner or later).
Sharing 8 years of experience
The only way to tackle this uncertainty is knowledge. This is why we are always excited to share our knowledge. And so we are happy to announce that, for the 3rd time, we will be supporting startups throughout the program with our product, software development, and R&D in the program of Techstars – the global platform for investment and innovation that connects entrepreneurs, investors, and corporations.
With over eight years of experience working with startups in software development, we consider our knowledge well-worth sharing with early-stage startups, so that they can avoid many common pitfalls.
We started our work for the Techstars program last year, but we have already supported a few editions. 
How will Tooploox support startups during the Techstars program?
Over the years we have expanded our expertise and can support startups on different levels. Whether that's product strategy or design, mobile or web development and with Artificial Intelligence.
During the program, startups get access to mentorship, investors and other support that help them become stable, self-sufficient businesses.
Tooploox provides support in areas like: 
Q&A sessions – this aims to let the startup founders and Tooploox specialists get to know each other and exchange ideas as well as ask each other questions.
Ideation – with a 1on1 session with a Tooploox expert in a given area, the startup founder can confront his or her ideas with more experienced business professionals, who can gain  a deeper understanding of the business and spot any tensions within. The goal of the meeting is to choose a course of actions that would bring the most value and the greatest return on investment.
Tech and product consulting – the next stage is to work with the founder on the improvements to be implemented and the problems to solve. As a one-stop-shop organization, Tooploox provides a wide range of services, be that product design, mobile programming, front and back end development, or AI services.
Last time, nearly all startups from each program we participated in chose to ask for our help. Within this year's program, we will support startups with different capabilities and will organize it in a step-by-step process so each company gets the same amount of time to work with us and to start the journey together.
Of course, each startup has different challenges depending on what stage they're in, so getting to the next level means something different for everyone. That's one of the reasons why each startup is approached individually.
This program was created for startups that focus on making innovative caregiving solutions in order to address the unmet needs of individuals providing and receiving elder care. 
"With generations living longer than ever before, there is an incredible opportunity for innovation within the caregiving space. This market is experiencing unprecedented economic growth as the American 50+ population is already responsible for trillions of dollars of spending and economic activity."

Techstars Senior Vice President of Accelerators, Keith Camhi.
We also find this topic very interesting and important. In Tooploox, we want to support startups in creating and delivering projects which change the world. That's why this topic and startups who participate in this project are so close to our mindset. As it is similar to the healthcare program and projects we describe below.
MetLife is one of the biggest companies which provides insurance, annuities, and employee benefit programs. It's no surprise, though, that this program is focusing on startups within the health and wellness scope.
The current situation has made people take better care of their health. This has happened not only because they are afraid of the coronavirus. During the lockdown, a lot of them have time to think more about their lifestyle and start to eat better or do fitness.
It's also essential to take into consideration that the industry has to change a lot – during the lockdown, people still need to visit the doctor and go to examinations. DThe digitalization of healthcare is now not "nice to have" but has become a "must-have."
"Early-stage investing is all about finding diamonds-in-the-rough and potential is seeing what others don't see. A startup is a quest to find a repeatable business model and at that core is a product."

Ted Serbinski, Managing Director at Techstars
And now, we are excited to start our adventure with new startups from the Techstars program!